Tashkent, from 10 to 15 July 2017, UNFPA, in partnership with NGO "SOS Children's Village Uzbekistan, supported a 5-day training on promotion of healthy lifestyle based on peer to peer education for most-at-risk young people under patronage of  SOS Youth Centers (branches of SOS Children's Village for long term support of young people to prepare them to independent life). During the session, young trainers discussed these issues and delivered to youth the information about possible ways to avert some essential problems related to health in the form of interactive learning.
Тhis is a UNFPA-supported initiative on the use of peer education approaches to promote healthy lifestyles and provide quality information on adolescent reproductive health to vulnerable youth, which has been run since 2014. Building on its long experience of peer-to-peer education techniques, UNFPA partnered with SOS Children's Villages of Uzbekistan to target young people residing in SOS Children's Village institutions as the primary beneficiaries of, and agents to promote healthy lifestyles and prevent the spread of HIV, especially among the most-at-risk-adolescents. This initiative seeks to promote young people's awareness of the importance of sexual and reproductive health, and general hygiene. It also aims to prevent early marriages and sexually transmitted infections, promote healthy lifestyles and advance gender equality. Very often, at risk youth may find these topics difficult to discuss with parents or teachers, so the peer-to-peer approach provides a complementary addition to formal education concerning healthy lifestyles and family lives. In 2014-2016, about 150 young people from SOS children were trained using the peer-to-peer approach.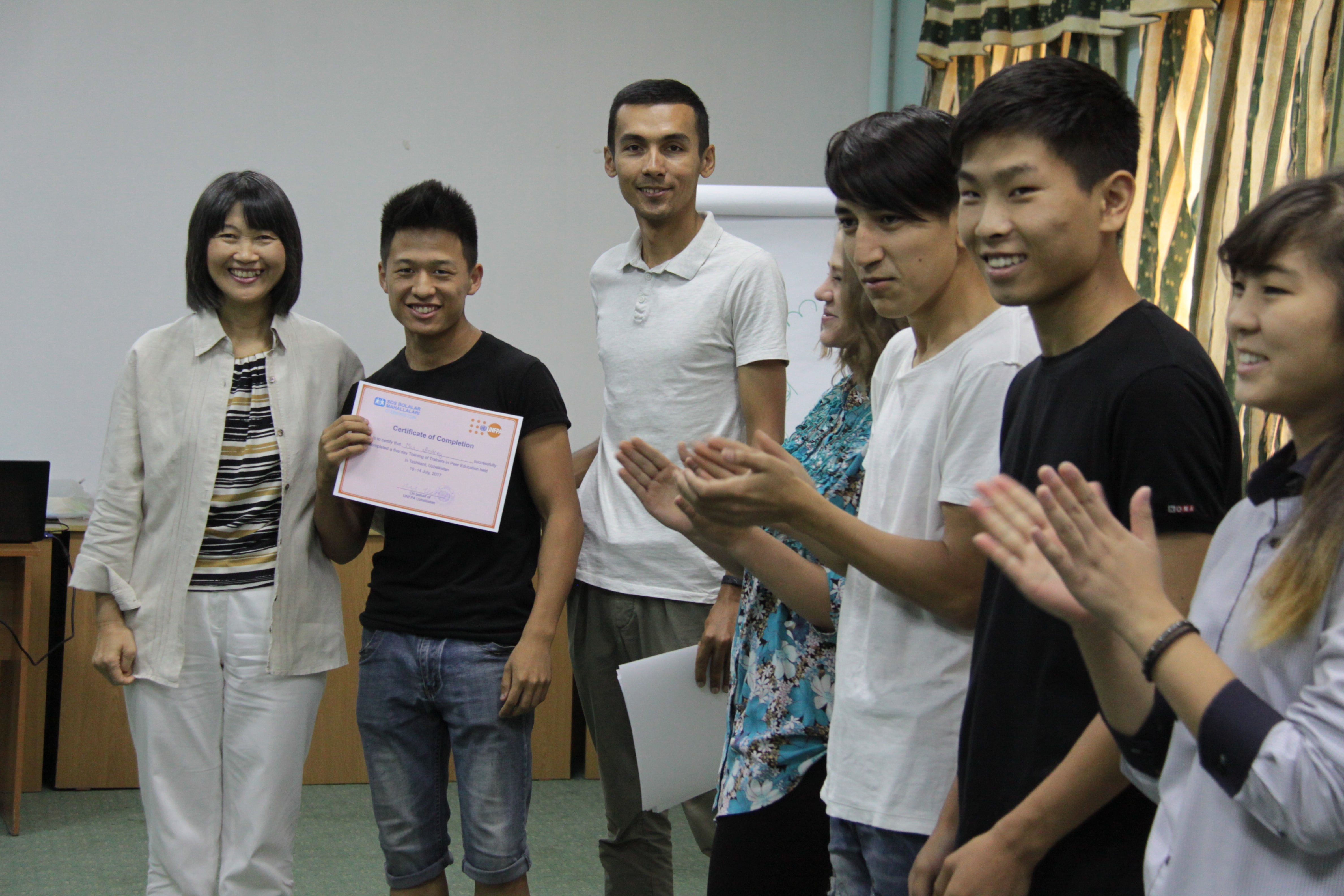 One of the most exciting moments of the session was a visit of the UNFPA Representative in Uzbekistan, Ms. Mieko Yabuta. The aim of her visit was to find out the current issues and interests of young generation. Ms. Mieko Yabuta joined the discussion of young participants in order to be familiar with not only their feedback on training session, but with the interests and needs of the today's youth. During the conversation, Ms. Yabuta highlighted that a prior aim of the training is to help adolescents to prevent health problems and spread the proper and necessary information among their peers. In addition, young participants shared their impressions about the training, by stating that they find health related knowledge beneficial for their future. At the end of the training session, the Representative of UNFPA in Uzbekistan, Ms. Mieko Yabuta and trainers awarded all participants with successful completion certificates.
The "SOS Children's Villages of Uzbekistan" Association is a non-profit organization established in 1997 to ensure the well-being of children, protect their interests, rights and meet needs. At the heart of the organization's activities are children and young people who are left without guardianship of their parents, as well as families in a difficult life situation.
UNFPA in cooperation with SOS Village join their hands to support young members of society and to fulfill their demand for necessary information on health, as it is beneficial for the future of the country and nation as a whole.